Livolo | Electric curtain rails | 0.5 to 4 meters | Wi-Fi | SmartHome
SKU:

VL-SHQ023
Livolo | Electric curtain rails | 0.5 to 4 meters | Wi-Fi | SmartHome
This is a complete package to make your curtain rails electrically operable.
Controlling the motor is easy, both manually through the automatic opening and closing system and via your phone with the Livolo home app. In addition, you have the option to easily set automations and time schedules via the Livolo home app.
This way you can set every possible option for the automatic opening and closing of your curtains. Such as setting the times at which your curtain opens and closes, or when you switch on the lighting, the curtains close automatically. Everything is possible.
You outsmart every burglar and can go on holiday with a good feeling.
The package comes complete with rails, suspension system, motor and an extensive manual.

Product properties
Brand: Livolo

Model: VL-SHQ023

Colour White

Design: Smart home electric curtain rails for curtains

Operation: Manually and via Livolo app (wifi)

App: Operable via IOS and Android

Hand overtake function: when the curtain is opened/closed manually, the motor takes over the movement

Slow function: motor slows down automatically at the end stops

Automatic precise electronic final adjustment

More comfort due to low noise level
Curtain camouflages the engine, for an elegant look

Works in combination with Google home and Amazon Alexa (voice control)

Remote control possible (you don't have to be at home)

Suitable for straight windows

Rail dimensions in mm: Width 36mm / Length from 0.5 to 4 meters

Motor size: 295mm x 65mm

Connection voltage: Adapter 230V with cable (loose plug included)

Maximum curtain weight: up to 90 kg

Speed: 16 cm/sec

Power: 65 watts

Supply voltage: 230V / 50 Hz

Degree of protection: IP20

Sound level: 20 decibels

Easy to install

Set comes complete
NB! You need the Livolo Zigbee Gateway to operate the electric chain wrapper via the Livolo app.
pakking
Engine

rails

Suspension brackets

Rubber band

Carriers

Runners

Manual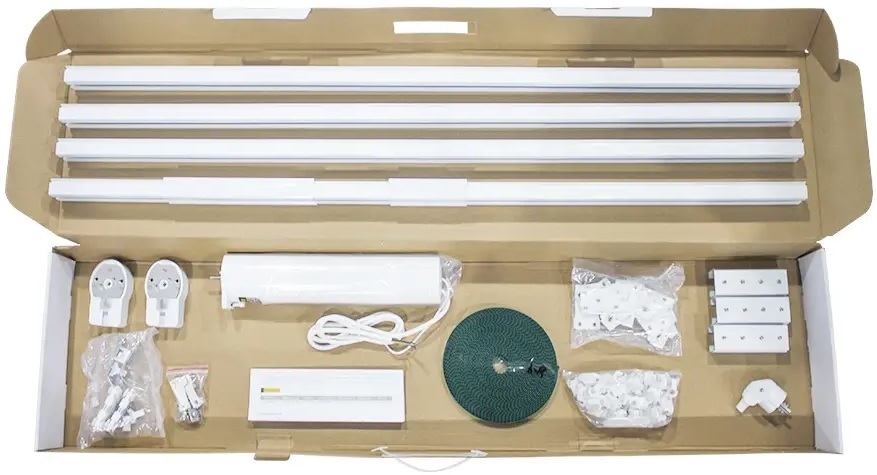 Installation video